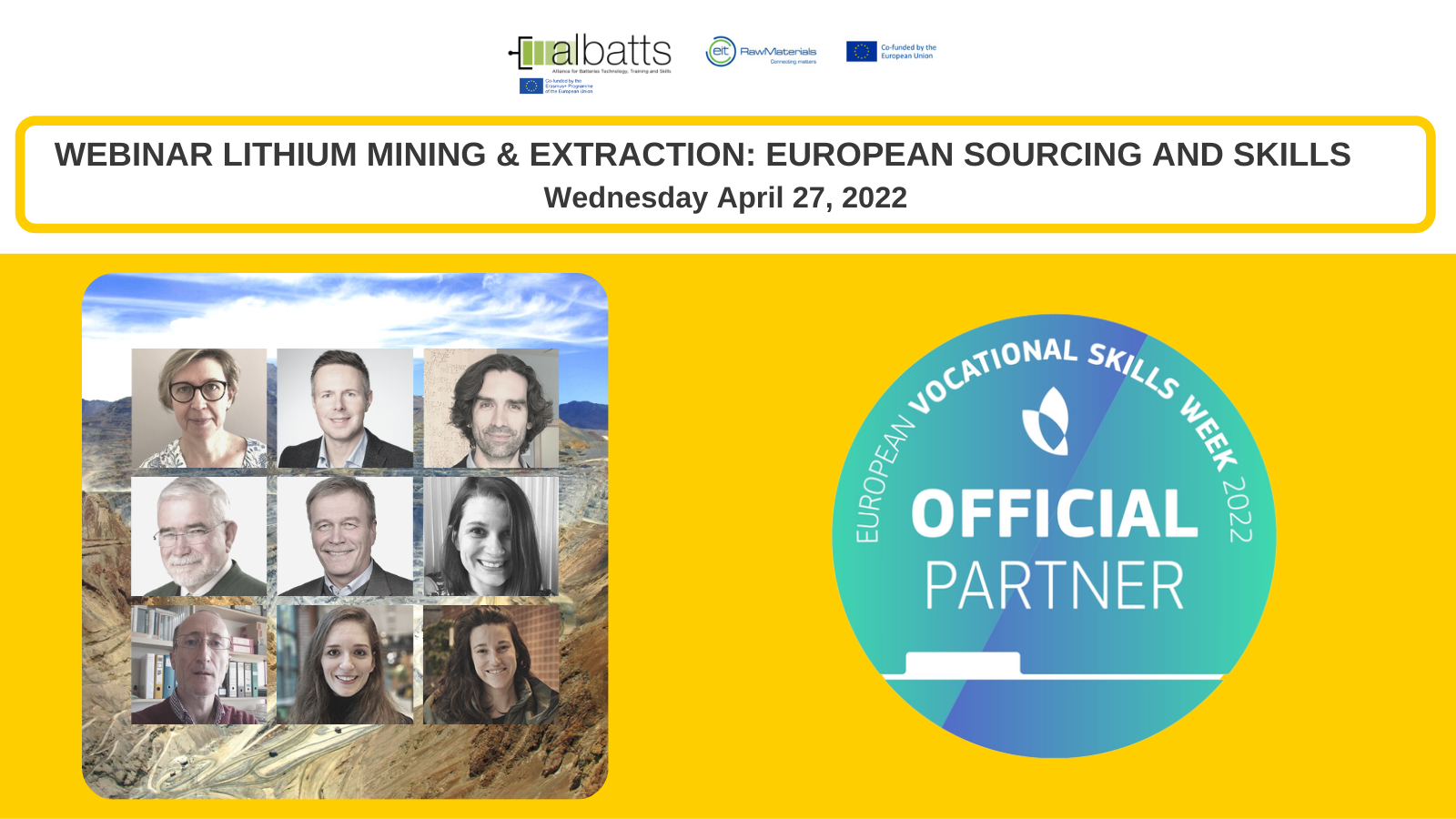 29.04.2022
Webinar Lithium Mining & Extraction: European Sourcing and Skills
In this webinar moderated by Laurence Lamm (EIT Raw Materials), Kari Valkama (Merinova) presented ALBATTS giving an overview of our projects's goals and ongoing work.
Following presentations were integrated in three main blocks, focusing on: (1) lithium resources in Europe, (2) lithium mining and extraction and (3) lithium processing.
In the first block, Gerardo Herrera (DG GROW, European Commission) made a presentation on the EU perspective on self-sufficiency and current forecast on gigafactories' implementation. He referred the Commission's Action Plan on Critical Raw Materials, focusing on actions such as industrial alliances and the development of expertise and skills, among others. Patrice Christmann (Krysmine) focused his contribution on the lithium deposits, active mines and exploration projects. He presented the current situation in Europe regarding lithium production and the near future European lithium demand for Li-batteries gigafactories.
In the second block, Asko Saastamoinen (Keliber) focused on conventional mining and specific skills required and job roles that are needed in the sector, and Blandine Gourcerol (BRGM) provided an overview on geothermal extraction and corresponding job roles.
In the third block, Carlos Nogueira (LNEG) focused on lithium metallurgical processing, also providing useful information on its skills and training needs. The final presentation was provided by Nathália Vieceli and Léa Rouquette (Chalmers University of Technology) and focused on the skills and competences needed in the field of lithium processing from secondary sources.
In its concluding remarks, Laurence Lamm stressed that the world's current situation has caused increased concern in the EU about the dependence on raw materials. It is important that Europe tries to source or recycle more, and that the European objective of building more gigafactories is achieved in order to increase the competitiveness of the sector and attract skilled employees. Simultaneously, it is crucial to work on improving the picture of the sector, as there are currently many opinions against sourcing in Europe. Regarding the skills and the up-skilling of the working force, ALBATTS should deepen its work in the coming months, especially in what regards the end of the value chain (recycling).
This ALBATTS webinar has been registered as an event of the European Vocational Skills Week 2022.
Its recording, together with all presentations, are available here.