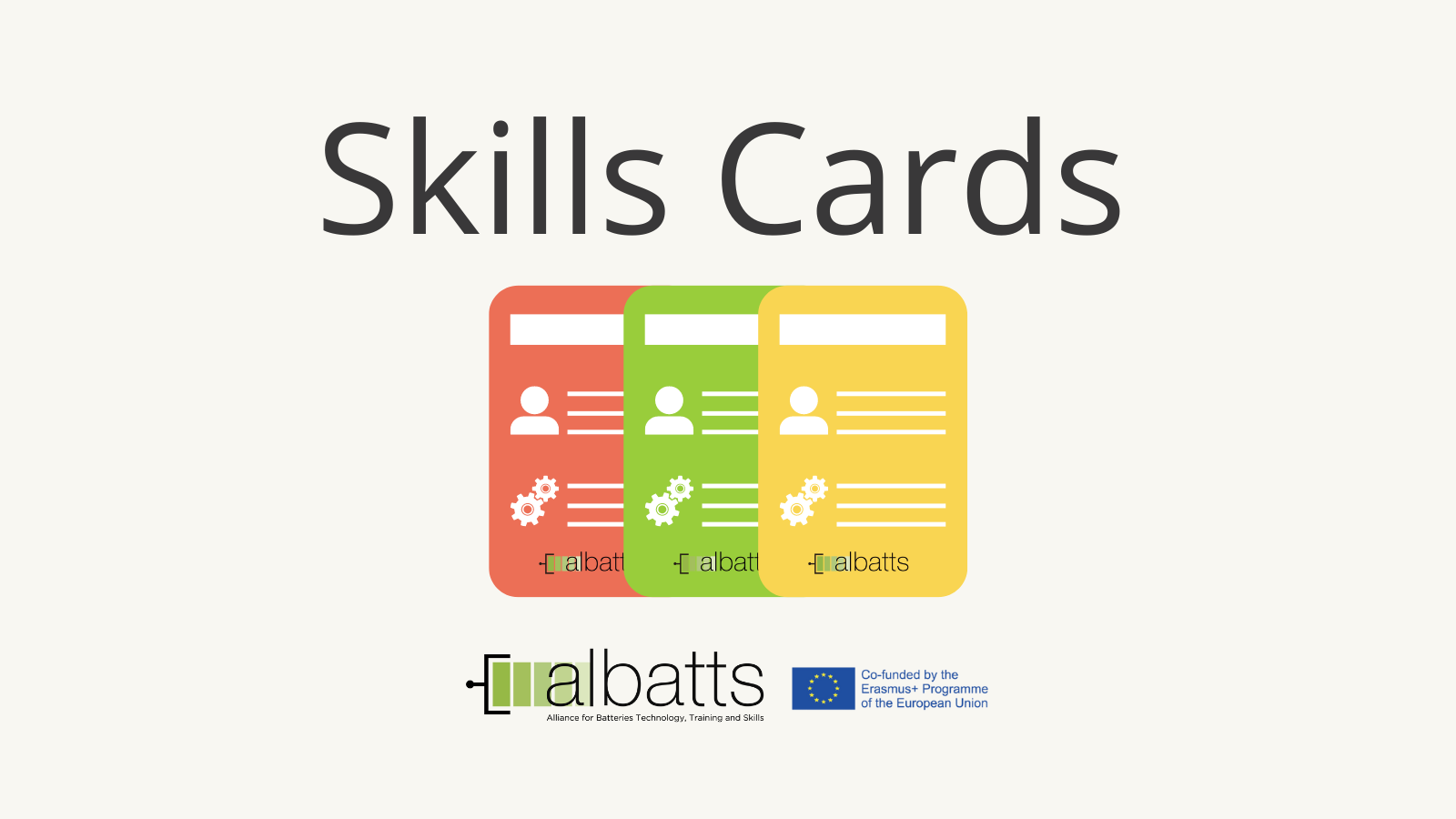 15.02.2023
Release of the ALBATTS Skills Cards
ALBATTS (Alliance for Batteries Technology, Training and Skills) partnership released the first "Skills Cards ".
SOURCE OF THE SKILLS CARDS
The ALBATTS Skills Cards were created on the basis of the data collected by the project through desk research, surveys, interviews and workshops. Data on skills intelligence and skills needs were normalised and generalised into the skills cards based on the occurrence of various job roles in literature and on discussions with stakeholders and experts, as well as on job advertisements published by companies.
We selected the initial set of skills cards from the amount of data collected and from their relevance across the battery value chain steps, while using the expertise within the consortium.
DEFINITION AND CONTENTS OF THE SKILLS CARDS
ALBATTS Skills Cards describe job role that can be found in the battery sector. Each Skills Card categorises a specific job role into the European battery value chain, the departments within a battery manufacturing facility (gigafactory) or an organisation in general. It also contains the EQF* level specification that identifies the overall level of the job role.
Additionally, Skills Cards hold the set of competencies within the job role, the description of its concrete activities, types of needed competencies (skills or knowledge), maturity level (awareness, practitioner or expert) and the reference to the ESCO** framework. Competencies are categorised into soft, transversal basic, academic, cross-sectoral specific and sector specific competences.
USING THE SKILLS CARDS
ALBATTS Skills Cards can be used…
… by companies in order to identify the needed competencies to:
1) readjust/improve employee's selection and recruitment;
2) train employees according to the latest sectoral needs;
3) set up their businesses within the battery sector.
… by training providers, such as VET providers or universities to:
1) create training opportunities;
2) improve existing curricula or training programmes.
National agencies can use ALBATTS Skills Cards to readjust national education plans, whereas general public may use them to know more about the jobs in the batteries sector.
YOUR FEEDBACK IS IMPORTANT
As this is the first release of the Skills Cards, we would be happy to receive your feedback in terms of:
- Overall quality of the Skills Cards – granularity of competences and level of descriptions;
- What is missing or what should not be within the scope of specific skills cards;
- Skills Cards that we have missed;
- Regarding each of the rated Skills Cards, your opinion on how important and urgent you find the job roles and on how many of them are required within the batteries sector;
- Your interest in cooperating with us on the Skills Cards development and update.
* EQF stand for European Qualifications Framework
**ESCO is the multilingual classification of European Skills, Competences, and Occupations
Click here to see the Skills Cards.
Interested in the ALBATTS project? Register to our Stakeholders Database!